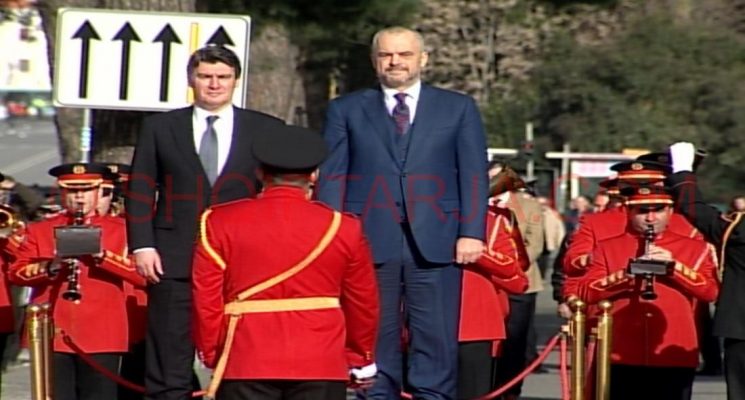 Ditën e sotme në vendin tonë ka mbërritur Kryeministri kroat, Zoran Milanoviç, i cili do të zhvillojë një vizitë zyrtare dyditore në Tiranë, ku do të ketë takime me zyrtarët më të lartë të shtetit shqiptar.
Milanoviç u takua fillimisht me kryeministrin Edi Rama, i cili organizoi një ceremoni në hyrje të kryeministrisë. Takimi mes dy homologëve nisi rreth orës 10.00 në Kryeministri, dhe në përfundimin e tij të dy kryeministrat mbajtën një konferencë e përbashkët për mediat.
Kryeministri shqiptar Edi Rama tha se, integrimi i Kroacisë në BE ishte një moment i rëndësishëm. Kryeministri u shpreh se, Kroacia është një histori suksesi jo vetëm për Shqipërinë por për të gjithë rajonin. "Kroacia është për ne një model suksesi, një shembull frymëzues dhe një partner që na inkurajon në rrugën e integrimit evropian,  por jo vetëm për ne por edhe për rajonin", tha Rama.
Ndërsa Kryeministri kroat gjatë fjalës së tij tha se, do të mbështesë integrimin e Shqipërisë ashtu siç mbështetën Serbinë.
Kryeministri kroat me pas do të takohet me presidentin Bujar Nishani dhe liderin e opozitës, Lulzim Basha. Shqipëria dhe Kroacia janë në marrëdhënie diplomatike prej më shumë se 20 vjetësh dhe po ashtu në vitin 2009 janë bashkuar në NATO.
Shqipëria shpreson të marrë statusin e vendit kandidat për në BE dhe pret edhe mbështetjen e Kroacisë, ndërsa lidhja mes dy vendeve konsiderohet model për marrëdhëniet dypalëshe dhe bashkëpunimin në gjithë rajonin e Ballkanit.