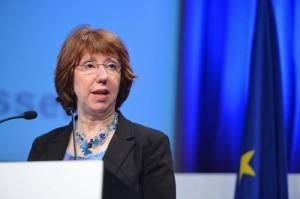 Përfaqësuesja e Lartë e Bashkimit Europian, Catherine Ashton ka bërë një deklaratë në emër të Bashkimit Europian, me rastin e 20-vjetorit të Ditës Botërore të Lirisë së Shtypit. Ashton është shprehur se BE, kujton dhe nderon  gazetarët, që i kanë kushtuar jetët e tyre, disa herë me kosto të larta personale, raportimit të ngjarjeve ose shprehjes së pikëpamjeve, kur disa të tjerë do të kishin preferuar të heshtnin.
Ashton theksoi, se një shtyp i lire, i pavarur dhe dinamik është i domosdoshëm në çdo shoqëri demokratike. BE është e përcaktuar të luftojë për lirinë e shtypit, kudo në botë dhe të dënojë nivelin e ngritur të intimidimit, dhunës dhe censurës me të cilën përballen gazetarët në shumë vende. BE i bën thirrje gjithë qeverive, të lejojnë gazetarët të punojnë në siguri dhe pa frikë censurimi dhe ndjekje penale.
''Liria e shprehjes duhet të mbrohet si në median tradicionale, po ashtu edhe në Internet. BE do të vazhdojë të promovojë lirinë e shprehjes on-line dhe offline, jo vetëm sepse, teknologjitë e reja të informacionit mund të jenë çelësi në promovimin e të drejtave të njeriut dhe demokracisë. BE do të vazhdojë të dënojë, dhunimet e të drejtave të shtypit dhe lirisë së shprehjes në të gjitha mediat, me synimin për të siguruar se gazetarët në gjithë botën mund të kryejnë detyrën e tyre profesionale pa pengesa-, përfundon Ashton, deklaratën në emër të BE-së.